André Laurent O'Neil
, cello, has extensive experience as both soloist and continuo player. He works with New Trinity Baroque, Boston's Handel and Haydn Society and has played with the European groups Les Perruques d'Amsterdam, and L'Orfeo Barock Orchester. André has also performed with the period instrument chamber ensembles Repast, Duo Seraphim, Bacchanalia, Ars Antiqua, Arc'Angelo. During the summer he regularly performs in Robert Conant's Festival of Baroque Music in upstate New York, where a reviewer has praised "his lustrous ringing tone, facile technique and strong convincing grasp of the baroque style." He has presented Bach's six solo suites at the University at Albany. André graduated from Yale with honors and from the Early Music and Historical Performance Practice Program at the Royal Conservatory in The Hague, Netherlands, where he studied with Jaap ter Linden. He has given baroque performance practice presentations and masterclasses at Columbia University, the University at Albany and the Brooklyn-Queens Conservatory of Music. André plays an original John Morrison violoncello (London, 1800), using a reconstruction of a c.1700 English bow. --Photo by Richard Calmes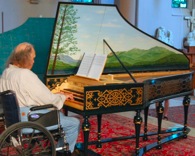 William Carragan
, musicologist and harpsichordist, is known for his research in both baroque chamber music and nineteenth-century symphonic literature. He is a contributing editor of the Anton Bruckner Collected Edition in Vienna, for which he prepared a new edition of the Bruckner Second Symphony, in two versions, over the period 1986 to 2005, which was most recently performed in Leipzig and Montreal. It has received three recordings so far. He has also reconstructed the premiere version of the Bruckner First Symphony, which was recorded on Naxos in 1996, and a previously unheard version of the Third which was performed and recorded in Japan in November 2007. From 1979 to 1983 he devoted himself to a completion of the Bruckner Ninth Symphony; so far it has been performed in six countries and has received four recordings, the most recent being of a newly revised version of 2006. In 1996 he was the organizer and host of the only western-hemisphere international conference held that year in observance of the Bruckner centenary, and in the last few years has presented a number of papers devoted to analytical matters and longitudinal studies of Bruckner performance, some of which have been published in
The Bruckner Journal
.He completed several of Schubert's unfinished piano sonatas for the anniversary of 1978, and ten years later he prepared a four-movement version of the Schubert Eighth Symphony which has been performed several times. He studied composition with Alfred Swan, piano with Stanley Hummel and Gilbert Kalish, and harpsichord with Louis Bagger, and has given many performances of the baroque solo, concerto, and chamber literature over many years. He has prepared the first edition ever made of the complete harpsichord works of Johann Mattheson, which he is engaged in recording. He is also the translator and editor of the liturgy with full seasonal propers of the Western Orthodox Church of France, fully set to music in eight volumes, and is now working on a similar effort in Eastern Orthodox music.


He was Professor of Physics at Hudson Valley Community College in Troy, New York, U.S.A., from 1965 to 2001, and is the author of a comprehensive four-volume textbook of introductory university physics.

Mr. Carragan's large concert instrument, a re-creation of a south-German double harpsichord of the late seventeenth century, was constructed by
Carl Dudash
of Norfolk, Connecticut, and decorated by his wife, Marilee von Wagner. Its registers are flared, so that the distinction in plucking points between the various unison sounds is maintained into the bass range. That, plus the nasale register and the two-way buff stop, gives the instrument over thirty distinct usable textures. The resulting sound is very warm and rich from top to bottom. The outer decoration is in the German style, as is the soundboard painting, but the inner lid painting and other decorative aspects are inspired by the north woods and the starry heavens with their mythology.

Mr. Carragan possesses three other instruments, a single-manual Dudash harpsichord from the early seventeenth-century German tradition, also with flared registers, an antique Italian harpsichord recently restored by Walter and Berta Burr, played by Mr. Carragan in 2007 in one of the inaugural recitals of the Doctorow Center in Hunter, New York, and a lautenwerck or gut-strung harpsichord built by Anden Houben of Tuscaloosa, Alabama, and decorated in Slavic style by Tatyana Nivina of Stonington, Connecticut.


Return to top